About Jacob and Co
About Jacob and Co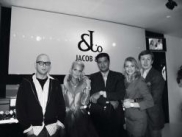 Jacob Arabo's passion for jewelry began early as a young boy growing up in Russia. After migrating to the United States, Jacob, age 16, enrolled in a jewelry design course to develop his natural talents. Immediately recognizing his obvious gifts and ability, his instructors encouraged him to leave the course.

Jacob was soon designing his unique pieces in New York's famed Diamond District for a number of jewelry labels and private clients. Finally, in 1986, Jacob opened his business and began designing products under his brand, JACOB & Co. In the mid-to late1990's, many music industry icons - as well as up and coming recording artists - were taken by Jacob's unique creations. Personalities such as Whitney Houston and Mary J. Blige recommended Jacob to a host of their high profile male and female friends, spawning a buzz throughout the music industry which continues to resonate today.

Soon, Jacob Arabo became the go-to-guy for jewels throughout the music, entertainment, fashion and sports world, with the biggest names in the business becoming faithful clients of Jacob's.

Following Jacob Arabo's now legendary success in revolutionizing the market for men's jewelry, as well as his interpretation of the classics for women's fine jewelry, he set out to create his own signature style in the fine timepiece category. In 2002, Jacob launched his first entry into this market with The Five Time Zone Collection, which combined bold primary colors with multiple time zone technology. The inspiration for his first designs can be found in the fast-paced, international lifestyles of his clients for whom he said the timepieces were created. These included many well-known names, such as Sir Elton John, David Beckham Justin Timberlake, Bono, Angela Bassett, Naomi Campbell, Sean Combs and Derek Jeter. The design and varying sizes (40mm and 47mm) transcends genders. The watches immediately attracted the attention of both men and women, creating an opportunity for line expansion among both sexes.

Jacob followed with two-and-three time zone styles, as well as a new Automatic Chronograph which signaled his move into more sophisticated movements. Again, the Chronograph proved to have an audience with both men and women, helping his business to expand rapidly and globally.

At the same time, the traditional Five Time Zone styles became diversified adding softer, pastel colors and diamond accents.

One of Jacob's most creative line extensions was the development of the Five Time Zone, "The World is Yours" timepiece. This unique, bold design turns the diamond dial into a world map by using different colored diamonds to form the continents and oceans. The combinations of designs within this style are endless and Jacob continues to expand the design each year with the use of arresting colors and different materials forming the map. This timepiece is currently vying for Travel and Leisure's prestigious 2006 Design Award, which is voted on by many of the world's leading architects and designers (decision in March 2006).

Having expressed himself and his Brand in the more" fashion" timepiece category, Jacob turned his attention to serious, complicated watch-making. At the end of 2005, the first pieces from his new limited editions arrived in the world markets, marking the introduction of three "world firsts" in the men's complications category.

Two of these innovative firsts are non-diamond timepieces - The H-24 Five Time Zone Automatic and the World GMT. They marry Jacob's time zone technology with an automatic movement. These two models cover time in either 5 or 32 additional cites, with this feature being driven by a single movement - a world first. Both are available in limited editions of 1,800 and in a variety of metals including stainless and platinum, and well as white, rose and yellow gold.

Jacob also introduced his limited edition Rainbow Tourbillon collection in 2005. Available in both diamond and non-diamond 18K white, yellow and rose gold cases, this high quality timepiece earned its "world first" status by integrating a tourbillon device with multiple time zone functions. Its signature model has a bold personality and visualizes the full spectrum of color both on its dial and through its caseback. Other, more subtly colored dials, are also found in the collection.

For those seeking the ultimate in luxury watch-making, JACOB & Co. has created two exceptionally rare models. First is the Diamond Tourbillon in platinum and rose gold - with 18 pieces being created in each metal. The Diamond Tourbillon has its entire case and dial set in pave diamonds, along with the sophistication of the tourbillon device.

The second is JACOB & Co.'s Royal timepiece in a limited edition of 12 pieces. The Royal incorporates over 71 carats of D-Flawless baguette and rose cut diamonds on its dial, case and bracelet and has the distinction of being one of the most valuable timepieces in the world.

Jacob's innovation in the field of Swiss watch-making continues for both men's and women's styles. He is committed to creating unique, wearable timepieces which shatter the status quo and provide innovation with both intrinsic and experiential value.