Franck Muller Master of Complications
Master of Complications

Master of Complications
Story of a Passion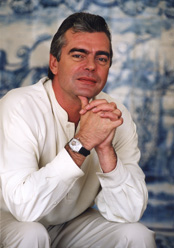 For over ten years the genius with golden hands, Franck Muller, has been playing an active part in the revival of Switzerland's great watchmaking tradition.

Born on 11th July 1958, in La Chaux de Fonds, Switzerland, his watchmaking adventure started at a very early age. Fascinated by mechanics, he was always getting to the heart of them, while collecting unique knowledge and building up exceptional creative genius.

His brilliant studies at the "Ecole d'Horlogerie de Genève" (Geneva School of Watchmaking) were reward by several honours and first prizes.

Once he had completed his studies, Franck Muller quickly won the confidence of the biggest collectors, private museums and auction houses who entrusted him with the restoration of highly valuable watches.

From 1983 onwards, while watchmaking complications had been limited essentially to the pocket watch, Franck Muller turned to the development of wristwatches with complications. He began to create unique items bearing his name.

Every year since 1986, Franck Muller has been presenting his World Premières, based on prestigious complications. These creations are technical feats coveted by collectors throughout the world and are already regarded as milestones in the history of Fine Watchmaking.

In 1992, Franck Muller founded his own company and, in the same year, created the most complicated wristwatch in the world.

In 1995, a new administrative and production site was opened in Genthod, the "foundation stone" for the consolidation and instituionalization of the name.

In response to his growing success, Franck Muller has created a new watchmaking concept and site, name FRANCK MULLER WATCHLAND, opened in March 2001.

The years ahead will continue to be ones of passion and creation.